Hannah McMunn, Co-Founder and Director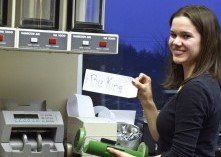 "I earned the money to start my Roth IRA when I was 12, and opened my Roth early the next year when I was 13. My older brother established his at the same time, and two younger cousins established their Roths a year or so later. In 2007, I helped develop the IRAKids website to promote the benefits of Roth IRAs to other kids. I began working in a bank when I was 15, handling the drive-up window customers. I enjoy helping bank customers and derive much satisfaction from directing them, when possible, to bank programs that will be beneficial to them and their families. I derive this same satisfaction from helping promote Roth IRAs to other kids."
Article in the Wisconsin State Journal about Hannah and Roth IRAs for Kids.

Because of Hannah's busy school schedule, sports, extra-curricular activites and work, initial email and phone contacts should be directed to Hannah's Chief of Staff (see below).
C. Edward Wall, Hannah's Chief of Staff (her grandfather)
Email: cewall@irakids.com
Phone: (734) 434-4074
Ed created and published the Consumers' Index to Product Evaluations and Information Sources, 1971-2004, which was one of the first major consumer information resources. Published quarterly for 32 years, in addition to timely product reviews and advice for purchasing products, it covered alerts, warnings, and recalls issued by all agencies and consumer organizations in the United States and Canada.

Please contact us if you have suggestions for this website, or would like to contribute a related article. Specsific questions concerning Roth IRAs for your kid, should be directed to your bank, credit union, accountant, or financial advisor.

Quote...Unquote:
"I've got all the money I'll ever need, if I die by four o'clock."
Who said this? The answer will be found elsewhere on this website.


Who said this? The answer will be found elsewhere on this website.